Richmond historian on the importance of Juneteenth
June 18, 2020
Spider Pride
The Juneteenth holiday commemorates June 19, 1865, more than two years after the Emancipation Proclamation, when Union Soldiers arrived in Galveston, Texas, and announced the end of the Civil War. The event freed the last remaining enslaved people in the United States.  
Public historian Lauranett Lee, a UR lecturer in Arts & Sciences and the School of Professional and Continuing Studies, recently offered insights on the importance of Juneteenth. Lee was asked to speak at Gov. Northam's announcement that Virginia will observe Juneteenth as a state holiday.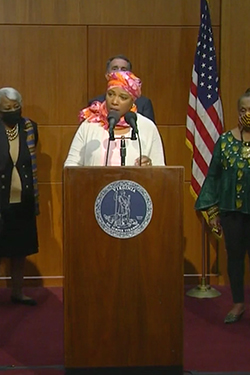 "Juneteenth came about in the later part of the 19th century," Lee said, "because in 1865, when the last people who were enslaved learned that they were free, they celebrated. It became more of a stated event as the years went on. And in 1980, Texas made it an official holiday. Virginia had a proclamation since 2007, but it is now finally a state holiday."
Juneteenth holds particular significance in Virginia, Lee said, where nearly half a million people were enslaved at the start of the Civil War. Many families were broken apart and sent west from Virginia, Lee said. 
"I am a Virginian, and oftentimes when I speak I do mention that because Virginia has been known as the 'Mother of Presidents,'" Lee said. "We think of Virginia and the landscapes, and the built environment, but we don't think about the history that parallels those landscapes and that presidential history. That history includes slavery. It's not a history that we want to think about. It's not something that people are taught about, but it's something that we need to know, because when you look at what is going on in society today, you see the legacies of slavery still impacting people from the womb to the tomb."
In an interview with WJLA in Washington, D.C., Lee talked about a lack of awareness about the holiday. 
"I think the fact that [Juneteenth] is not more widely known outside of the black community speaks so pointedly to these parallel histories that we experience in America," she said. "For example, the fact that people do not know of the violence of police brutality that African Americans endure says a great deal about how we know about history. And so this acknowledgement of Juneteenth and the marking as a state holiday speaks to the efforts of Virginia to rectify many of the past wrongs that have taken place."
Lee was also the founding curator of African-American history at the Virginia Historical Society (2001-2016). In 2011, she worked with a team of colleagues at the VHS to launch a genealogical tool called Unknown No Longer: A Database of Virginia Slave Names.
She has been co-chair of UR's Presidential Commission for University History and Identity. Part of the commission's work was recommending ways to deepen the shared understanding of UR's complex past and its implications for fostering a more inclusive future. Lee also serves as an advisor to the Burial Ground Memorialization Committee, which is engaging the campus and broader community, in particular descendant communities, in a dialogue on how to memorialize the enslaved burial ground located on what is now UR's campus, as well as the history of the land. 
"I do understand in learning about our history, that we work best when we work together," Lee said at the governor's Juneteenth announcement. "This is the time for us to pull together, learn who we have been, who we are, and who we can be. This is our time. We've got to make this work."
Related: President Crutcher announces that starting next year, Juneteenth will be a paid University holiday.
Photo: Lee speaks on the UR campus, during the spring 2019 semester.