UR adopts wind chimes to help vision-impaired Spiders navigate campus
April 9, 2021
Campus Life
The sweet sounds of accessibility can now be heard at a busy pedestrian intersection near the Robins School of Business. Tonally different wind chimes situated around 15 feet apart catch even the slightest breeze to indicate directions for people who are blind or vision-impaired.
This pilot project was borne out of necessity, explained Emily Helft, director of Disability Services at UR. She said that though the campus layout works with nature, giving it an organic quality and beauty, the navigational landmarks aren't optimal. Overlapping pathway entrances and exits can be disorienting, especially when they meet in a circle.
Disability Services led an assessment and gathered student input to identify areas on campus in most need of attention. The challenging circular Business School intersection quickly rose to the top of the priority list.
Accessibility doesn't have to be ugly. It doesn't have to be expensive or complicated.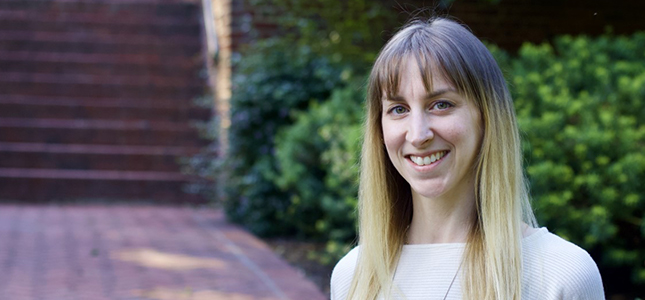 Emily Helft
Director of Disability Services
"When we think about landmarks in a three-dimensional space, it's hard when there are either too many or not enough," Helft said. "And this was a case of having too many." The solution had to be affordable, functional, and blend into the surroundings.
"I really wanted to showcase that accessibility doesn't have to be ugly. It doesn't have to be expensive or complicated," Helft said. "But how was I going to do that?"
Her lightbulb moment happened at home. "I was sitting on my couch one night trying to figure this out, and the wind chime on my own deck was chiming in the background," she recalled.
After getting the green light for a pilot project, Helft selected two wind-sensitive chimes: one bamboo and the other in metal. Their distinct sounds improve orientation. She met to finalize the locations with Facilities, which then installed the posts, painted them, and drilled the hangers. Small signs indicate that the chimes are accessibility landmarks.
"It starts amazing conversations," Helft said. "I don't think that most people actively overlook accessibility, but if you don't know someone in your life who is disabled, it's not something you always think about first."
Future plans for the wind chime project continue the conversation. The idea is to offer two cross-disciplinary courses next year for students to use the campus as their canvas, developing landmarks that solve problems through sculpture and soundscaping. Helft would like to see the chimes become a phenomenon beyond UR.
"This project has been like a little tap on a pool, with the ripples getting bigger and bigger," she said. "Members of our community who are touched by this project will have a whole new awareness of accessibility. The ripples will continue to grow."