Then and now: A look at 150 years of Richmond Law
October 12, 2020
University News
On Oct. 10 the University of Richmond School of Law marked 150 years of providing legal education in Virginia's capital city, preparing generations of practitioners, public servants, judges, politicians, and advocates advancing the causes of justice, fairness, and equality before the law.
The law school, originally founded as part of Richmond College, opened with an inaugural class of 30 students at the corner of Grace Street and Lombardy Avenue in Richmond's Fan District.
"A lot has changed over the last 150 years," said Wendy Perdue, dean of the school. "For starters, the founders of the school would be more than a little surprised to learn that the current dean is a woman, as are over half the students, and that over a quarter of our students identify as Black, indigenous, or people of color."
To mark the occasion, the University created a website that explores a timeline of the law school since its founding, along with stories from its alumni, via an oral history project.  
Now, more than ever, is a vital time to celebrate an institution that works to advance the cause of justice.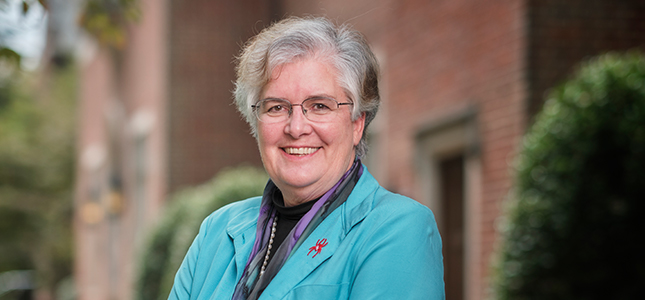 Wendy Collins Perdue
Dean, University of Richmond School of Law, professor of law
Richmond Law's magazine explored the historic milestone in a Q&A with the dean and tracked long-term change throughout the school's history. The magazine also took a look at what's different — and what remains the same — in the first-year curricula of 1920 and 2020. Additionally, alumni recalled faculty mentors who had the greatest impact on them.
The school's living graduates now number more than 7,000. The highest-profile alumni include Virginia's current attorney general; the U. S. representative of Virginia's 6th Congressional District; two justices on Virginia's Supreme Court; and one of the senior executives of GV, Google's venture capital arm. Graduates populate benches around the state and beyond. More of Virginia's judges hold degrees from Richmond Law than from any other law school.
Today, Richmond Law places a significant focus on professional skills development, including writing, and on the expansion of justice, particularly for marginalized groups. Clinics focus on the needs of children, families, the wrongly convicted, and others. It is all aimed at developing what Richmond Law has become best known for: developing lawyers who are experts in their fields, distinctly collegial in their interactions, and committed to justice and service.
To celebrate the sesquicentennial, in light of the pandemic, the law school is hosting several virtual opportunities for current students, faculty, staff, and alums, including a building tour and a panel discussion on what the next 150 years will hold for Richmond Law. A celebratory gala in honor of the anniversary has been postponed to October 2021. 
"Now, more than ever, is a vital time to celebrate an institution that works to advance the cause of justice," Perdue said. "We've built a community of lawyers who are fierce advocates for their clients, who give back to their communities, and who think critically and act ethically to serve our profession."
Related: